Do you have a favorite holiday recipe? Tricia over at Leafy Treetop Spot has a fun linky party going on where you can share (and find) favorite holiday recipes. Head on over and link up some of your faves… after you check out this super simple fudge recipe, of course.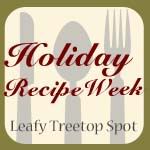 Fudge is a holiday classic and this recipe is easier than easy, and it stores wonderfully in the fridge.
Super Simple Fudge
Ingredients
3 cups semisweet chocolate chips
1 (14 ounce) can sweetened condensed milk
1/4 cup butter
1 cup chopped walnuts (optional)
Directions
Place chocolate chips, sweetened condensed milk, and butter in large microwaveable bowl. Zap in microwave on medium until chips are melted, about 3-5 minute, stirring once or twice during cooking. Stir in nuts, if desired. Pour into well-greased 8×8-inch glass baking dish. Refrigerate until set. Of course, you can also melt the chips in a pot on the stove with your milk and butter, I usually do it this way, but in a pinch, the microwave is quicker. Enjoy!