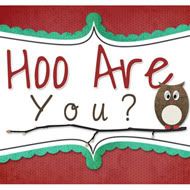 Two weeks in a row… That's not too bad right? Well, here's this week's round of questions:
1. Have you ever had a professional massage before?
Nope. I would rather spend my money on other things. And I'm cheap… like CHEAP. Dirt cheap.
2. When drinking bottled water do you have a preference on which brand you drink?
Not Arrowhead. Bleh. I do prefer Crystal Geyser.
3. What is your favorite kind of soup?
Uhm, I like all kinds of soup… well, most. Minestrone isn't my fave. And cream of mushroom based, I could do without.
4. Do you have a preference on which Kleenex brand you use?
Puffs… with lotion. And I like the anti-bacterial. But I think that's a mom thing.
5. What is your favorite breakfast food?
Waffles. With strawberry topping. YUM. And IHOP cheesecake pancakes. MMMMMM.
Krista