Today we have a fun visitor! Kat from Krafty Kat! She has some really awesome projects to share with you guys! I LOVE her stuff! It's cute, quick, easy and fun! My kinda girl! So, check her out and then head over and visit her at Krafty Kat!
Hey y'all! I'm Kathie and I blog over at Krafty Kat.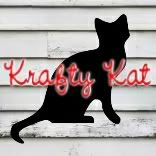 I have been a fan of Krista and While He Was Napping since before I ever started blogging. She has been

such

an inspiration to me and I am fortunate to have her as a bloggy friend. So, when I saw that she needed guest posters to help out for a little while, I jumped right in!
So, let me tell you a little about me…Hmmm, well, I have been blogging for about 6 months. I was a little afraid at first that I would run out of things to say. But, that hasn't happened yet so I'm still going! I am a SAHM and I have 5 children (3 are my own) from ages 6-12. Needless to say, our budget is TIGHT. I shop with coupons, go to thrift stores, yard sales, etc. I resell my children's outgrown clothing on ebay to pay for new ones. I have learned to make the most of what I have and that is where my crafting comes in. Instead of spending money on holiday decorations or expensive decor, I can copy-cat or improvise using things I already have on hand.
Here's an example: I saw this newspaper art dress in the Ballard Designs catalog.
It really caught my eye but there's no way I was going to spend $299 for it. So, I printed out the picture, traced it onto some vintage dictionary pages (I found at a thrift store) cut out the pieces and glued them together.
I made it slightly different so I wouldn't be completely copying. I was pleased with how it turned out and the cost- FREE!
Another example is this ruffled pillow.
It looks like it came from Pier1 but was a fraction of the cost and SO easy to make! I found a ruffled top from the thrift store and cut off the top underneath the sleeves.
I tossed in an old throw pillow and sewed up the ends (and I don't even sew!). It looks like I spent

forever

sewing all of those ruffles!
The same concept goes for my Easter decorating as well. Here is my mantel:
My kids and I made the floral wreath and garland from egg cartons. That's right…egg cartons! We cut them into flowers, painted them and glued them.
The wreath is inside a frame that was given to me years ago and spraypainted white.
I have a few thrift store ceramic bunnies and a container with a tissue paper flower.
I filled some dollar store vases with Easter grass and plastic eggs (leftover from last year) and glued the vases to candlesticks (also from the dollar store). I use these "hurricanes" year round! There are a few egg cups and paper mache eggs. The eggs on the wall came from the dollar store. Also, I made the little basket (I robbed from the kids) of faux chocolate bunnies. I cut out bunny shapes from canvas, filled them with fluff, and painted them brown.
I have

lots

of other ideas for Easter/Spring on the cheap at my blog. I would love for you to hop over and check them out! Also, I host a linky party on Tuesdays called "Gettin' Krafty With It" where you can share your ideas and projects. Each week, I feature several posts from the party!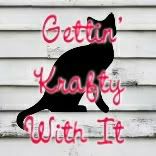 Thanks

so

much, Krista, for giving me the opportunity to share a few of my projects with your readers. I hope I haven't bored you all to tears! I could seriously talk about this stuff ALL DAY!
Thanks so much for visiting, Kathie! I'm so glad you came. And what sweet words! Totally makes my day! Isn't Kathie fun?!? So, go get sucked into all her awesomeness! Go, GO!