Everyone knows (and has probably participated at least a time or two) in the age old tradition of carving Jack-o-lanterns.  It is one of our Halloween traditions.  We never did them as kids (ok, not never, but in my whole 18+ years at home I can count on one hand the number of times we made Jack-o-lanterns) because my mom didn't like the mess and they didn't last, not to mention the time and work that goes into them.  When My Mr. Right and I got married, we talked about traditions we wanted to have with our kids.  Some were ones we were bringing from our childhoods and some were ones we wanted to start on our own.  So, we did from the very beginning.  Carving Jack-o-lanterns was a tradition we chose to start with our family.  But, maybe you're like my mom and don't want the mess of carving Jack-o-lanterns.  Don't worry, you can still get your pumpkin fix this Halloween.  Here are some other ways to decorate pumpkins, real and fake:
1)  Paint.  Whether you spray paint your collect or get a little more artsy with some acrylic paints, the choice is yours.  You can combine techniques and methods to achieve some really cool pumpkins.  Apartment Therapy has some fun ideas.
Source
2)  Glitter.  I am loving the sparkle and bling that's all the rage this year.  But don't overdo it.  A little sparkle can go a long ways…
3)  Ribbons.  Grab your glue gun and go to town.  Add some pizzazz with some ric rac, satin, grosgrain or whatever else suits your fancy.
4)  Puff Paints.  For a little more control and intricate detail, use puff paints to squeeze your design on to your pumpkin.  Young House Love has a great tutorial and ideas on what to put on your pumpkins.
Source
5)  Rub on decals.  Simple and mess-free.  Choose your design and rub it on to your pumpkin.  No drying time.  They are ready to go in a pinch and look fantastic.  A Cultivated Nest has some wonderful examples.
Source
6)  Stamps.  With some patience, you can use Stazon ink and some of your favorite Halloween themed stamps to decorate your pumpkins.  This would be a good way to incorporate some decorated gourds into your Halloween.
7)  Rhinestones.  Bling out your pumpkins with some spooky colored rhinestones for an added bit of sparkle.  Loving that spider web…
Source
8)  Sequins.  Sequins have never looked so good.  A small bag of sequins and some Halloween colored straight pins would work wonders on a plain pumpkin.  Simply use a straight pin to secure each sequin to your pumpkin.  Sparkle and texture, love it.  Making Lemonade will show you how.
Source
9)  Fabric.  Use some fun, spooky fabric and mod podge to glue your fabric to the pumpkins.  Easy to do and completely customizable with your choice of fabric.
10)  Decoupage.  Print out some clip art, clip them down and mod podge your clippings to your pumpkin.  A fun photo collage from Halloweens past might make a fun, unique display.  Don't stop there though!  Decoupage some pretty fall leaves onto your pumpkin.  Or some vellum decals.  Or use tissue paper with some fun patterns like Kimberly did.  Go crazy.
Source
11)  Thumb tacks.  This is genius.  Cute and easy.  You can spray paint your thumb tacks any color you want for some more variation.  There's a great tutorial at Madigan Made.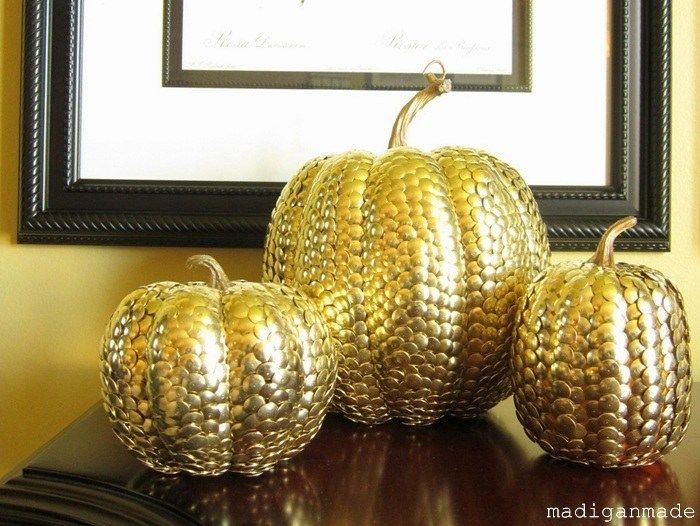 Source
12)  Polka Dots.  Grab your power tools and make this cute little pumpkin.  All you need is the drill and drill bits.
Source
13)  Chalkboard paint.  Paint up your pumpkins with some chalkboard paint and then use chalk to decorate.  Want to change it up a little?  Erase your pumpkin and you've got a blank slate to decorate again!
Source
14)  Stickers.  If you have little ones, this would be a fantastic diversion while you do your stickers (or whatever), let your little one do their own pumpkin.  Your little one gets his Elmo pumpkin and you don't have to dissuade your stubborn little pumpkin to leave your stickers alone.  There's a tutorial at Babble.com.
Source
15)  Flowers.  Whether you opt for real blooms or ones of the silk variety, you can create all kinds of pretty arrangements with this combination  Use your pumpkin as a standard vase or get a little more creative and put them all over the outside.  BHG.com will show you how.
Source