During this series you'll see a post on a great gift idea for a new momma. Well, actually, it would be a great gift for any lovely lady (and maybe even some of the men in your life…?). Well, here is your chance to get your hands on some of those goodies for yourself. And be on the look out this month for more details on putting together a New Momma's Survival Kit. Here's the deets: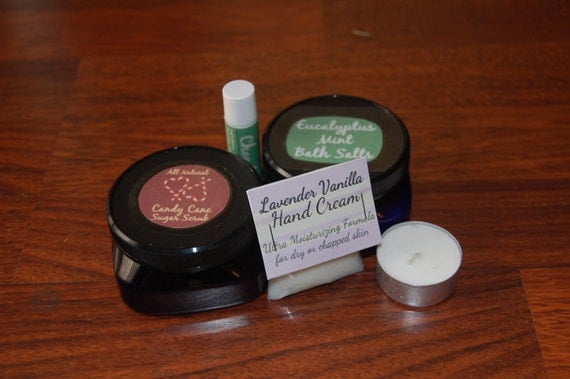 Not all items are pictured.
See below for complete prize details.
You could win:
– One 2 oz bottle Sugar Scrub for Face and Body (will come in a clear, smaller bottle)
– One .5 oz sample packet of Moisturizing Hand Cream
– Two .15 oz Lip Balm tubes (only one pictured)
– One 2 oz bottle Creamy Body Butter (not pictured)
– One 1 oz sample packet Bath Salts
These will all come in your choice of scents. You can go with one or two complimentary scents or totally mix-and-match it up. There's a list of scents to choose from below all this mumbo-jumbo or we can try to create something unique. It's your choice.
I'll be using Rafflecopter again for this giveaway. It seemed to work fairly well on the last one so why fix it if it ain't broke, right? This giveaway will last all month, mostly so I have a chance to get my brain back before I seriously let someone down with a gigantic delay in delivery of their prize. Giveaway closes on March 4th, 2012. Products are available through my Etsy Shop if you would like to get them sooner. If you would like to create a custom kit, like this one, please message me and I'll set you up. Completed orders are shipped within 3 business days.
Could you use a little pampering in your life? Who couldn't, right? Or do you know some one who could? Well, to get your hands on this awesome goodness, here's what'cha gotta do:
a Rafflecopter giveaway
Good Luck!
Available Scents:
Raspberry
Chocolate Raspberry
Banana
Green Apple
Wintergreen Mint
Coconut
Sugared Almond
Lemon
Lime
Lemon Lime
Citrus Sage
Citrus
Fruit Cocktail
Lavender
Eucalyptus Mint
Fresh Linen