Do you know what tomorrow is?  If you're like me you might have to stop and think for a few seconds…  "uhmmm, it's Saturday, right?" you might think.  And you would be correct.  It is also the 14th.  March 14th.  And that is a magical day in math class.  It's Pi Day!  If also a wonderful excuse to try one of these 20 delicious pies.  Click the photos or the links below them to get the full recipe and rock Pi Day in the very best way possible.  Make sure you scroll all the way down though, because there is a pretty awesome giveaway going on that you won't want to miss out on!
18 AMAZINGLY DELICIOUS PIES YOU NEED TO TRY
Uh, thin mints and brownies.  Need I say more?  Maybe just YUM.
GET THE RECIPE

Peppermint Brownie Pie – Because peppermint is yummy all year long and now you've got something to do with all those broken candy canes you stashed away.
GET THE RECIPE (it's gluten-free!)
Because, some times, you need pie for dinner…
GET THE RECIPE
Some times you want pie for dinner… quickly!  A faster version of Chicken Pot Pie to the rescue.
GET THE RECIPE
Mr. Napping loves German Chocolate… this might be a new twist for his birthday cake next month.
GET THE RECIPE ON FAV FAMILY RECIPES
Chocolate Strawberry Oasis Pie
Chocolate and strawberries… I'm pretty sure that's heaven in your mouth.
GET THE RECIPE AT LOVE AND OLIVE OIL
Strawberry Pie
This is gorgeous and perfect for summer time!
GET THE RECIPE AT A GRATEFUL PRAYER AND A THANKFUL HEART
Light and Fluffy.  Green and minty.  Hey, choose a different pie for today and save this one for St. Paddy's Day.  It's just around the corner.  And a delicious corner it could be.
GET THE RECIPE AT CONFESSIONS OF A COOKBOOK QUEEN
Because the only thing better than a Samoa Cookie would be a Samoa Cookie in pie form.
GET THE RECIPE AT AVERIE COOKS
I think my sweet tooth is about to hyperventilate.  Rolos, M&M's, Peanut Butter Cups… Oh MY!
GET THE RECIPE AT CRAZY FOR CRUST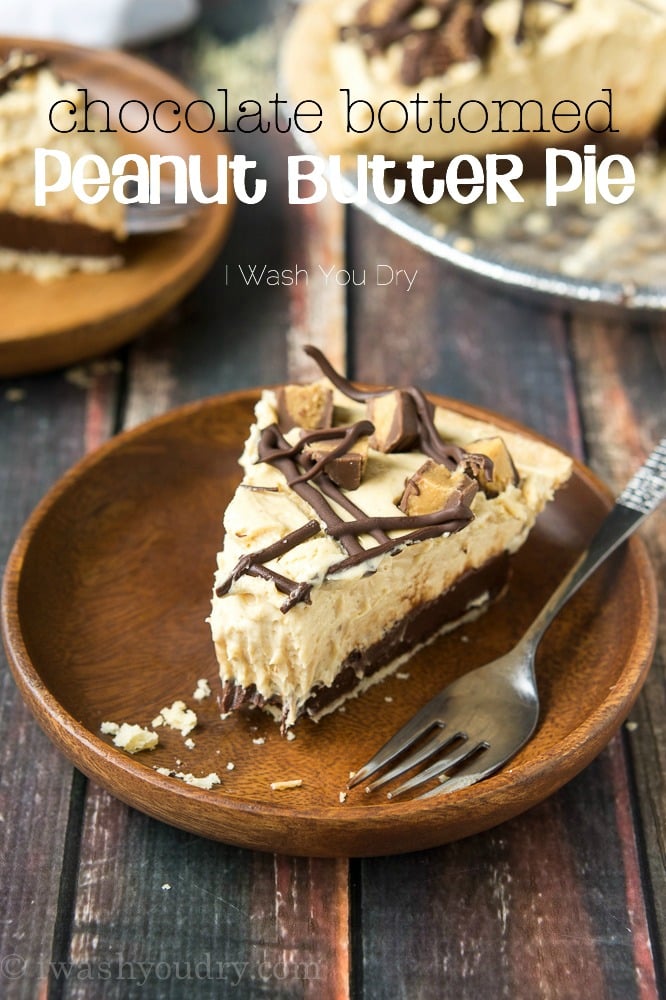 Speaking of peanut butter… Oh, and I am absolutely positive that peanut butter and chocolate is heaven in your mouth.  Omigosh, I want some of this!
GET THE RECIPE AT I WASH, YOU DRY
Now, you have no excuse to not celebrate Pi Day.  15 minutes.  Oreo Pie.  How can you say no to that?!
GET THE RECIPE ON MONEY SAVING MOM
S'more Brownie Pie.
I think I may have just drooled a little…
GET THE RECIPE AT SALLY'S BAKING ADDICTION
Mississippi Mud Pie.
Chocolate lovers unite!  I think this might be my winner… This lady loves chocolate.
GET THE RECIPE ON COOKING CLASSY
This one might have to be my birthday cake this year.  Birthday pie is good too.  Especially Strawberry Lemonade Birthday Pie.
GET THE RECIPE AT THE COOKIE ROOKIE

Maple Bacon Breakfast Pie.
I'm not sure you can say no to a pie with bacon on it.  I'm not sure it's physically possible…
GET THE RECIPE ON TABLESPOON
Bacon Mac & Cheese Pie.
This is one pie that calls out to all of us.  The mac & cheese (made with some delicious cheeses) and then topped with bacon.  Refer to pie above for my bacon pie denial theory.
GET THE RECIPE ON BUZZFEED LIFE
Quick & Easy Whoopie Pies
Because some times the best pie isn't really a pie at all.
GET THE RECIPE
Now that you are drooling over those amazingly delicious pies… what are you going to make it in?  What about the rest of the delicious pies you make all year long?  Don't settle for just any old pie plate.  How awesome would your pies look in this Pi Plate?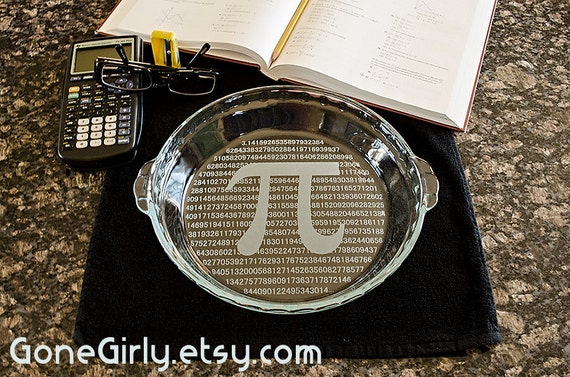 Pretty awesome.  And, yes, I am speaking from experience.  You can check out the Triple Chocolate Thin Mint Brownie Pie for an example of the awesome factor.  And it's not just for Pi day… any day can be Pie Day.
Who creates this awesomeness?  I'm glad you asked.  I'd like to introduce Amy, owner of GoneGirly on Etsy.  She has some amazing etched glassware designs, and among my favorites are the pi plates.  This is what Amy has to say about her work:
I distinctly remember a childhood Christmas gift – stickers with my name on them. It is the only gift I can remember from that year. I think we can all relate to that feeling of a special gift, one picked out just for you. That's what we do at GoneGirly. Everything comes with full customization of images, fonts and text. Designer engraved bakeware is a great gift for someone just starting out while simultaneously an "AH-HA!" gift for that MIL who has everything. At gatherings, you'll never argue over what dish belongs to whom. As one customer put it, "At thanksgiving this year my MIL will not be able steal my wife's deep dish pie plates and send her home with the shallow ones as she has in the past.."

All our dishes are still oven, microwave, freezer and dishwasher safe (HECK YEAH!). I do all the deign work myself and do not limit changes or re-workups – I'm not happy until you're looking at exactly what you want. We are also fast! We ship within 5 days of your order – provided you've approved your design. Custom orders and ideas are always welcome.
With over 250 items listed in her shop, Amy is sure to have something that will fit everyone.  And, if not, she has already invited you to make a custom order and get exactly what you want.  I personally own several of Amy's products and they are awesome.  The cutting board below is sitting in my cutting board drawer right this very second.  The quality is amazing, the customer service is awesome and she is FAST!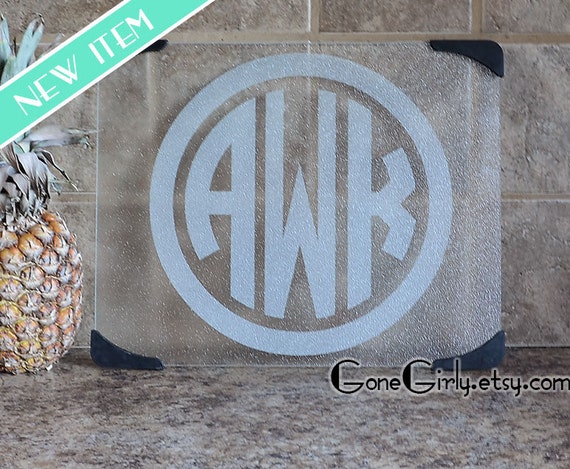 So, you want one right?!  Well, guess what?!  Amy has graciously agreed to give one of you lucky people your math-themed pie plate of choice!  Use the rafflecopter form below to enter for you chance to win!  Giveaway will close on March 29, 2015 at 11:59pm PDT.  Winner will be randomly chosen with Rafflecopter and contacted on Monday, March 30.  Winner has 24 hours to claim prize or a new winner will be chosen.  Giveaway is open worldwide, but international winners will need to cover shipping costs (approximately $32 USD).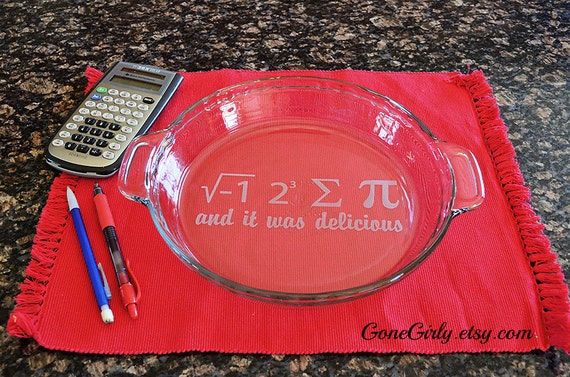 This one is Mr. Napping's favorite!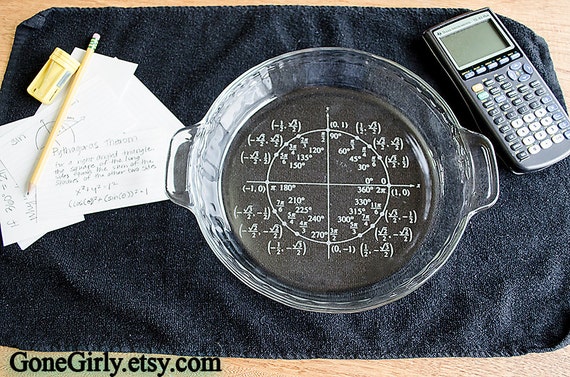 And this one is WAAY too much math for me!  Way too much!
What's your favorite kind of pie?  Mine?  Chocolate.